The It's Not Enough to Dream Women's Circle encourages women in entrepreneurship and faith.  Through this group, ladies gain clarity and focus and actively pursue and achieve their goals and dreams. Our members typically fit one of three profiles:
 Starter Stephanie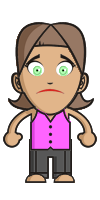 Who you are
As Starter Stephanie, you have managed to be in a position where your new business is your full-time job.  You spend every waking moment planning, marketing, and working hard to spread the word about your business.  But to no avail.   You are just barely squeaking by.  And if things don't improve soon, you're going to have to dust off your resume and go work for someone else.  You feel as if your dream is in the palm of your hand, but it's slipping through your fingers.
What you struggle with
You have a business on paper, but you struggle with running it like an actual company.  You're working like an employee, keeping yourself busy from day to day.  You lack the knowledge to set plans for corporate growth and sustainability.
What you need right now
You need everything--including the kitchen sink.   You need systems in place so that you can take a day off and your business will still run and make money without you.  You need to implement marketing streams and strategies so that you have regular appointments with people who desire what you offer.   You need to learn how to build a profitable income structure that will support the compan that you envision.