The It's Not Enough to Dream Women's Circle encourages women in entrepreneurship and faith.  Through this group, ladies gain clarity and focus and actively pursue and achieve their goals and dreams. Our members typically fit one of three profiles:
 Part-time Patty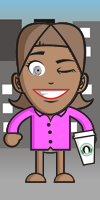 Who you are
As Part-time Patty, you have the daily grind down pat.  Your day begins before the sun rises and ends long after it goes down.  On the outside, it looks like you have it all together.  Great day job, and a growing side business. But secretly, you're tired of it.  You put in lots of work but see little to no return.  It'd be a great day if you could actually close a profitable sale.  The day where you can leave your full-time job seems to get further and further away.
What you struggle with
You have trouble making the transition from part-time to full-time business.  You don't know how to charge enough to build a sustainable company and you don't know how to market to get a steady stream of clients. You believe that you can, but don't know how.
What you need right now
You need a blueprint to help you monetize your purpose and passion.  You need to brand yourself in a big way, separating you from all of the others in your industry. You need to learn the day-to-day operations and strategies that will turn your side business into a thriving company.